If you are looking to add a little variety into your portraits why not try using a wide angled lens? Often overlooked as just a landscape lens, a wide focal length can open up a whole new world of possibilities and, contrary to popular belief, you can still get a flattering portrait of your subject – you just need to shoot in a slightly different way.
On a full frame camera a wide angle is anything smaller than 35mm, I own the Nikon 24-70mm f2.8 and rarely take this lens off of my D700.
I like to incorporate the distinct look you can get with a wide angled lens into my photography to the extent it's
become a key part of my style. There is a theme that runs through my images of a small boy in a big world as I
photograph the adventures of my growing 5 year old Theo.
When I am shooting wide I tend to take one of two approaches – I will choose to either draw the eye straight to my subject or I will choose to give equal weight to the subject's environment.
For this photo I just had to capture the beautiful Norfolk cornfields with their poppies we saw when on holiday this year.
Whereas here, I went for my love of negative space and used my background as a way to isolate my subject and pull your eye straight towards them.
I'll tell you a little secret about this photo of my super boy which was featured in the January/February edition of Click – it's shot in a quiet corner of a busy shopping mall!
Why let rain stop play when you have a rainbow umbrella and a wide angle lens all ready to capture those stunning clouds?
Wide angle lenses are notorious for their distortion in the way they bend straight lines. Personally, I don't find this to be much of a problem if you avoid positioning your subject right at the edge of the frame which is where the distortion is the strongest. Another tip is to take a step back so you are not too close to your subject and the distortion will be reduced even further.
The lens correction panel in Lightroom is excellent and can minimise or remove the distortion if you don't want it in your image. Sometimes I will deliberately include distortion into my image like in this bath photo where I love the way the wall behind Theo leans back and the wide angle illusion of the bath being much larger than it really is.
When you are shooting at 24mm there is so much included in your photo you are likely going to have to tidy up the frame a little by removing distracting objects. Where possible, I try to do this in camera by checking the whole of the frame in my viewfinder, but I will also remove objects using the clone tool in Lightroom or Photoshop if necessary.  Another trick is to change your shooting angle slightly to try and hide those distracting elements. Here is a pull back of the previous bath scene to show what my bathroom really looked like on this day!
As you can see we were in the middle of some renovations and I hid all the mess by lying on the floor and pointing my camera up a little.
I made good use of my wide angle during the 2012 Clickin Walk, one of my favourites is this photo of the Clickin Angels shot in front of the Barcelona water fountains at Montjüic.
Finally a demonstration on how to NOT shoot a flattering portrait with a wide angle lens! I borrowed a Nikkor 14-24mm lenses in Barcelona. Wow, that is one wide lens with a very distinct look and a lot of distortion and this is what happens if you stand above your subject and shoot very close to them! A lot of fun and thank goodness my friends have a great sense of humour!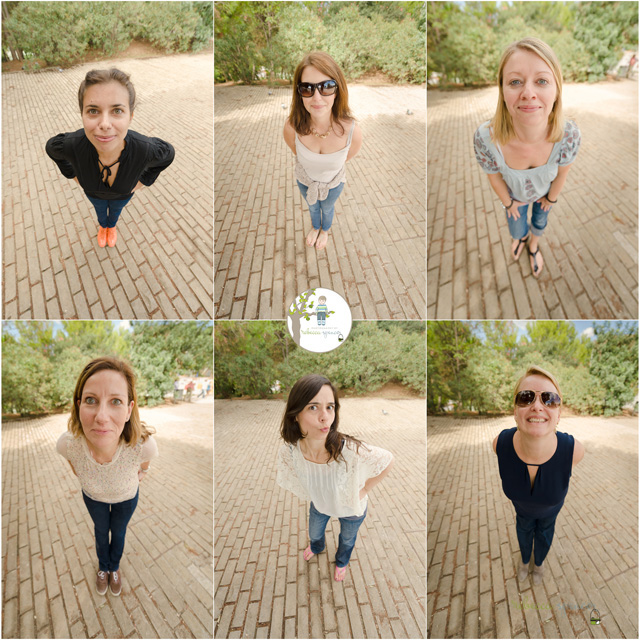 Rebecca Spencer, England
CMpro
website | facebook | ask a pro
Rebecca is a passionate hobbyist photographer living in a small village in England 50 miles north of London in rural Buckinghamshire. She specialises in capturing those precious but fleeting childhood moments every parent wants to remember. Rebecca's young son Theo is both her muse and partner-in-crime as they plan their photo shoots together. Rebecca has a particular interest in incorporating the environment into her work whether that be the woods that surround her home or her child's bedroom. Rebecca shoots with a Nikon D700 and her favourite lenses are the 24-70mm, the 35mm 1.4G and her beloved Lensbaby.
sponsored giveaway!
A special thanks to Tamron for sponsoring the blog post today! Tamron has been so generous and has offered to giveaway a Tamron SP 10-24mm Di II Ultra Wideangle Zoom to one lucky random commenter!  This Tamron ultra wide-angle zoom lens is the first ultra wide zoom to feature a focal length range of 10-24mm (the full-frame equivalent of 16mm ultra wide-angle to 37mm semi-wide-angle). It's a perfect tool for creating dramatic landscape, cityscape, and seascape imagery. At the ultra wide-angle setting, you'll be able to capture vistas beyond what the eye can see. At the semi-wide-angle setting, you'll capture scenes with angles of view almost as spectacular. Despite the compact, lightweight body, this ultra-wide zoom lens offers a range of wideangle shooting possibilities in a single lens. Designed for Canon, Nikon, Pentax and Sony crop-sensor cameras. $499 value.
To enter to win, simply comment below telling us what you would photograph with this lens if you were the one to win it.  Comment by noon EST next Wednesday April 10, 2013 and we will announce the winner here on this blog post in the afternoon.  Make sure and come back to visit to see if you're the one!
giveaway update!
Congratulations to our random winner, Kensya, who said, "Wonderful post! I really love viewing images taken with wide angle lens. If i win I plan to take lots of landscape images of Historic Downtown Wilmington and lots of beach photos. Thanks for the chance to win this really cool lens!"  I will contact you shortly on how to claim your awesome new lens.  Thank you, Tamron!