You love hearing how other photographers got to where they are today and this week we have another inspirational photography journey here for you from one of our CMpros, the incredibly talented Tracy Heyman!
my photography journey | tracy heyman
First of all, I'm so excited and honored to be able to share my photography journey here at Clickin Moms.  I owe so much of my growth as a photographer to this place!
My story is like so many others.  My love of photography started after the birth of my twins in 2005.  I wanted to capture all of their big and little moments.  They were growing and changing so quickly that I didn't want to forget any of it.  At the time, I had a Canon point and shoot which served its purpose but I quickly grew frustrated with its lackluster images and very, VERY slow shutter lag time.  I would catch my kid(s) doing something oh-so-cute and by the time my camera would snap the image, the never-to-be-witnessed-again, oh-so-cute moment would be gone.
And, truth be told, I was following a lot of blogs at the time while also working on my own and I was quite jealous of those bloggers with their nifty dSLR cameras.  Their images were just 'wow'.  And I wanted 'wow'.
So, in January of 2009, I bought my first dSLR, a Canon Rebel XSi with the kit lens.  My very first image with my first dSLR camera, shot in auto, with flash…
I spent the next few months shooting anything and everything.   I switched to aperture priority and also purchased my first prime lens, a Canon 50mm 1.8.  I began to feel quite comfortable in aperture priority and decided that I must certainly be ready for full manual mode.   So, in May I took my twins outside, at noon on a very sunny day, and tried my hand at manual.
So yeah, um, clearly not ready.  Back to aperture priority, I went.
My daughter arrived in August 2009 and I took full advantage of trying my hand at newborn images.   The result, due to a lack of white balance knowledge and um, not realizing that you shouldn't use a table lamp right next to your baby for light, resulted in a lot of orange baby shots.  And poorly posed and focused baby shots as well.
Over the next year I really started to grow as a photographer.  The composition and creativity of my shots were improving as was my processing, although I was still trying to find myself.
I also finally had my 'a-ha' moment with manual mode; it only took a year and a half :)  I probably would've figured it all out much sooner had I discovered Clickin Moms earlier.   I joined CM in August of 2010, upgraded my XSi to a Canon 5d, upgraded to a 50mm 1.4 and 85mm 1.4 and started my business that fall.
The forums at CM were such a wealth of knowledge for a new business owner!   I absorbed as much information as I could and took more breakout sessions than I could possibly list.  I believe I'm up to 15, at least!  Any question I had, I could find an answer in the forums or a helpful tutorial.   I also took Photoshop Fundamental for Photographers and then Creative Processing 201 to hone in on my processing skills even further.  Those classes played a huge role in not only making my post processing so much more efficient but, more importantly, creating a look and brand that became my own.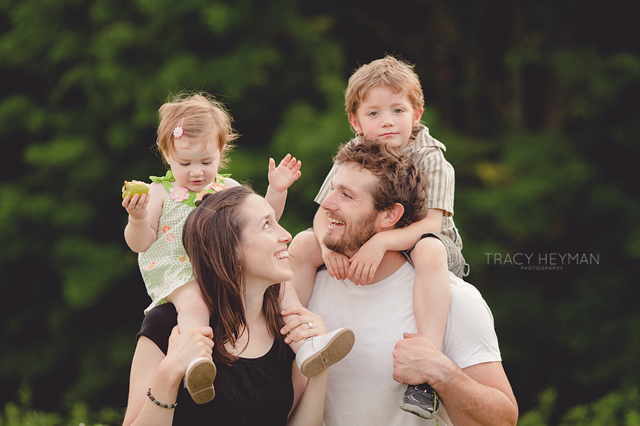 My journey is far from over and I continue to grow, not only creatively in my shooting and processing but in how I handle my business.  In the last year I've upgraded my camera and lenses once again and continue to push myself to learn.  I owe so much of where I am as a photographer today, both personally and professionally, to this wonderful place called Clickin Moms.
Tracy Heyman, Pennsylvania
CMpro
website | facebook | twitter | pinterest | instagram | ask a pro
Tracy Heyman is a South Central Pennsylvania based portrait and lifestyle photographer.  She is a wife and busy mama to three who is as passionate about her morning coffee as she is her Canon prime lenses.   A light lover and seeker who prefers to shoot outdoors in the fresh air and capture those candid, beautiful moments.