You love hearing how other photographers got to where they are today and this week we have another inspirational photography journey here for you from one of our CMpros, the incredibly talented Celeste Jones!
my photography journey | celeste jones
I've always been the picture taker in the family. You know, the person who always has the camera at the parties and barbeque's! I remember the day I got my Pentax K2000 in the mail. Don't ask me why I decided to get a Pentax. Actually, I think someone had an easy pay plan and it came with a bag, two kit lens, and editing software. I laugh about it now, but when I got it I didn't know how to turn it on. I kept pressing the shutter button and nothing happened! I was like what the heck??? This camera doesn't even work! Then I figured out how to turn it on and this was my first shot.
Here are a few more of my favorites!
My first sunflare image. Jealous??? I know you are!
My first self-portrait (I wasn't calibrated, and yes, this was a facebook profile picture).
Here's my first attempt at setting the timer and getting in the picture with my daughter. As you can see the grass is in focus, and we are not.
I went through a texture faze, but didn't know how to mask it off of my skin. In fact, there's one picture on my flickr account where I asked anyone who would see it if they knew how to get this stuff of my face. LOL
After a while I started gravitating towards editing. I didn't know anything about editing at the time, but I didn't need to. I had Picnik! Oh, and I still wasn't calibrated.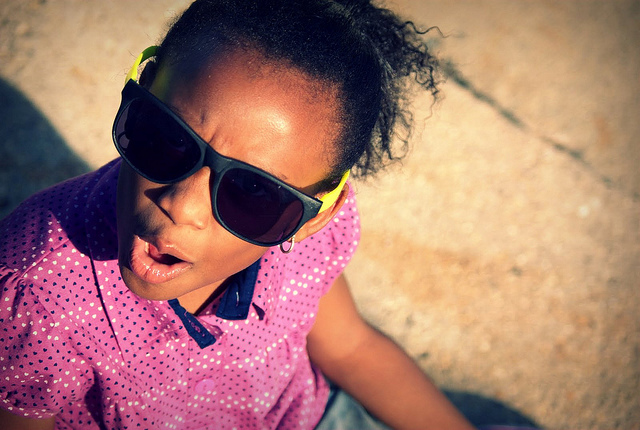 I remember how proud I was of these images, and then I kept seeing Clickin Moms advertisements, so I figured I'd give them 6 months and see what they are working with. My goodness, I had no idea how much I didn't know until I saw the work that people were sharing on the boards. I decided to upgrade to a Nikon D90 and got the kit lens and a nifty fifty. I shot with that for a while and started learning how to shoot in manual. I struggled with manual for while, and then one day it's like it just clicked for me.
I stayed on Clickin Moms reading tutorials on exposure and metering, and started asking for critiques. I also started taking my camera everywhere I went just to practice.
Then one day I tried film, and loved it!
I continuously shot daily with anything at my disposal and found myself searching for my voice. I realized that I love soulful images, I love connection, and I love basic edits.
I also started setting goals. If I wanted to learn how to backlight better I focused on that for a while. I never tried to be good at everything. I pieced it out.
Better backlit image…
I was admitted into CMPro, and then took Sarah Wilkerson's Composition and Creativity workshop. It changed the way I go about composing my images. I feel like I'll never look at an image the same again.
Through all of this I realized that the voice that I was searching for in my work was there all along. It just took a while for me to nurture it and bring it forth. Like they say, everyone is on their own separate journey, and I'm enjoying mine, flaws and all.
Thanks for reading my story!
Celeste Jones, Delaware
CMpro
website | facebook | Instagram
Celeste Jones is a hybrid photographer based out of Delaware. Her primary focus is photographing children being themselves. She really loves to photograph every moment of her daughter's life so that she can remember the person that she was at every stage of her life. When she isn't shooting with her DSLR or medium format camera you'll find her capturing the world around her with her iPhone. She's also a self-proclaimed reality tv junkie who loves Jelly Belly jelly beans (except for the black liquorice and popcorn flavor).