We may love photography but we also love sharing our favorite products with our friends.  This year, we're back with the CMteam Favorite Things list, full of incredible products that we just can't get enough of.  Be ready to bookmark or pin some of these links because we've got some amazing items for you to add to your wish list!
1. Swedish Dream Sea Salt Soap: The smell is devine – fresh and clean. It has bits of sea salt in it so it gently exfoliates and also lathers well for shaving. Love, love, love this soap!
2. FiestaWare: This durable, affordable, and retro dishware has been a staple in our home for many years. We add new colors occasionally, which also makes it fun to collect. Turquoise, lemongrass, and sunflower are our favorites!
3. Lululemon Yoga Mat: This is not your average yoga mat! It is larger and has a great texture – perfection! It does has a strong plastic smell when it first arrives, but just leave it open for 24 hours or so before you head to yoga class and it will air out.
1. Keurig Rivo: I look forward to this every morning. I have a little coffee bar set up on the counter with all sorts of syrups and sauces (Starbucks Gingerbread syrup is my current favorite, but the Caramel sauce is my year round staple) and make myself a fantastic 16 oz latte for breakfast every morning. Is it as good as going through the Starbucks drive-through? I hate to tell you – it's better.
2. Athleta Bettona Classic Pants: Yoga pants disguised as "real" clothes? Yes please! I've been guilty of the yoga pants, tank top, and ponytail routine for years. At least now I can look a little more pulled together and still be completely comfortable. I'm actually obsessed with all things Athleta at the moment — cute, super comfy, well made stuff.
3. Clarisonic Opal Sonic Skin Infusion System: After I had my fourth baby, I was desperate for something that would get rid of my lack-of-sleep under-eye puffiness, and I tried a half dozen different products that promised to deliver. I saw a YouTube video of the Opal in action and went out that very same day to buy it from Sephora. It is AMAZING. Not only did it depuff my eyes, but it's made the under-eye area firmer and minimized fine lines. Baby still isn't sleeping through the night, but I finally look like I am.
4. Click & Grow Basil Plant: I love fresh herbs and produce, but I did not inherit my mom's green thumb. I've heard that even a child can grow a tomato or strawberry plants, but the ones I tried to grow in the backyard died before I got anything from them. Click & Grow is my first success; I keep it on my window sill, and a light blinks when I have to water it. I've been making some pretty fantastic Caprese salads and Margherita pizzas around here with all of my fresh basil!
1. DL1961 Premium Denim: Definitely the comfiest and most flattering pair of jeans I've ever bought. I love how they keep their shape and don't stretch or sag even after a full day's wear.
2. Anthropologie's Capri Blue Soy Candles: The scent seriously fills up the entire house and makes me feel like I'm getting a daily dose of Anthro love.
3. Pre-packaged whole almonds: I throw these in my bag with an apple and I've got an easy, healthy and filling snack to take with me on the go.
1. Fitbit Force: There are times where I will sit, at my computer, all day long. The only movement I get those days is taking my laptop from my desk to my couch and then over to the kitchen counter. It's not healthy and it actually slows down my productivity. I know I need to move to have great clarity in my thoughts, to be more organized in my work, and to be a better wife and mom. The Fitbit force tracks my exercise and sleep and I manually enter my food intake – this all combines to let me know where I am physically each day. I bought this solely to track my movement and sleep, but an unexpected bonus is that entering my food each day also makes me stop and think about what I'm eating and why I'm eating it. My favorite part is when the Fitbit explodes (not literally) with happiness when I reach my goal for the day (my goal is 10,000 steps – both harder and easier than you might think).
2. Vitamix: I know it's crazy to add a blender to this list, especially a super expensive blender, but I use this every day. I use my Vita Mix for juices, smoothies, soups and more. When I'm lazy, I use it to cut up all sorts of veggies I want to hide in chili or spaghetti sauce so my kids (and hubby) don't know it's there.
3. Infiniti Pro by Conair® Curl Secret?: I have ridiculously long hair that is neither curly nor straight. In the past, curling my hair has been tons of work and I would quit halfway through and just throw it in a ponytail. I saw this recommended by someone on facebook and gave it a try. It is awesome! I can curly my entire head of hair in less than 20 minutes and the curls are gorgeous! I use it on the "wavy" setting and find that the curl will hold for an entire day and it's got the perfect beach wave look the next day!
4. Lululemon Studio Pant II (Liner): These pants are the most comfortable thing I own – they work in the summer and winter. I love that they are a baggier fit and don't cling in all the wrong places (like a lot of yoga pants do). They also look really good and are perfect for watching kids' sports, walking the dog, hanging around the house and running errands. I wear the tall – at 5'8″ the regular is just a bit too short for me.
1. Makeup by Jane Iredale: I especially love their healthy mineral foundation. For light coverage I do a tinted moisturizer, this spray, and then powder. For full coverage, I use a regular moisturizer, then the full coverage cream instead of the tinted moisturizer. Not only does it work well, but it is so good for your skin!
2. Daily System: I have a variation of this in our dining room. We spend so much time in there between meals and homework that it works great for seeing what's on the calendar, organizing school papers, pinning party invitations and such.
3. Bose QuietComfort Headphones: My 'office' is not in the back corner of our living room. With three rowdy boys and a girl that follows their every move, there are times that I need to tune it all out. These headphones do a fantastic job at canceling out noise. I can critique an image in complete peace even though my surroundings are in disarray!
1. GoPro Hero3: I'm a little late to the GoPro party, but I LOVE ours. It's lightweight, worry free and just plain fun. I enjoy capturing little bits of our lives, and love that I can easily include myself in the action. I never would have considered it if it wasn't for shares on the board, so thank you, CMers!
2. Everlane t-shirts: Just the right amount of stretch, fitting but not tight, and they wash and wear beautifully. I have several now and know I need to do laundry when I can't find a clean one.
3. Ikea bag clips: Seriously. I use these for about 100 things around our house. They make perfect stocking stuffers. The recipient will be unimpressed until they actually start using them; then they will thank you.
1. BareMinerals READY Eyeshadow 4.0: BareMinerals READY Eyeshadow comes in several pretty palettes. I like quick and easy – and with this set I just have to keep one compact with me instead of a bunch. It's got just enough shine to not be overwhelming, too.
2. Rifle Paper Co. Journals: I love pretty journals for writing down my great ideas! I carry one in my purse, keep one on my desk, and keep one next to my bed.
3 & 4. Sistema reuseable lunch box inserts and Pottery Barn Kids lunch boxes: I love Pottery Barn Kids lunch boxes because I can throw them in the washer on gentle and let them air dry a couple times a week. They are big enough to fit a lot and very durable. My kids like that their names are monogrammed on the front, too! I use Sistema lunchbox containers (BPA free) because I can mix and match the sizes depending on what I pack in their lunch. I put washable stickers with our last name on the bottom of the containers so that they are returned to us if my kids accidentally leave one on the lunch table.
1. Michael Kors Slim Runway Watch: I haven't had a watch in ages so I wanted to treat myself so something nice and this was perfect.  Simple yet beautiful and should last forever.
2. Amazon MP3 Store: I love music, anything from Country to Rap to Classic Rock to Golden Oldies to Pop, and I love buying mine from here.  I like to add albums to a music wish-list and then I periodically scan it to see which albums are one sale.
3. Hourglass Veil Mineral Primer: Such a great primer and it feels incredible on my skin.  It does a wonderful job of keeping my makeup from sinking into my creases and pores.
1. Mental Floss: I love the magazine AND the website.  The articles are thoughtful and fun – everyone in my family loves the fun facts that we find in this magazine!
2) Optrix XD5 for iPhone 5, 5S, 5C | Optrix: I have an underwater housing, but there are times when I just want a quick shot for Instagram while we are skiing or swimming, and this does the trick! Plus, it lets me take my phone everywhere without worrying about water damage!
3. Ubtan Facial Scrub: I love this stuff! I have combination skin, and this is the first product that I've found that lets me exfoliate without drying out my face.
4. Frye Boots: I live in these most of the year. I wear my Frye boots with almost everything that I own – they are comfortable enough to walk around in all day and I love how soft and gorgeous the leather is.
1. Zoku Duo Quick Pop Maker: This is my favorite product for my kids. They love the Zoku Quick pop maker. It makes a Popsicle in about 7 minutes!!
2. H&M sock bun accessory: This little foamy accessory looks kind of silly…but it allows you to make a cute sock bun in a snap!!
3. The Curvy Chrysanthemum Vase by Anthropologie: this vase makes me happy. I have it on a table in my entryway and it always gets lots of compliments. So simple but stylish!!
4. Soothing Aqua therapy by Aveda: My very favorite bath salts. I put this in every bath I take. I love that it smells just like an AVEDA store.
1. Elta MD Skincare UV Physical Broad-Spectrum: Great everyday chemical free facial sunscreen with a little tint, so my skin looks great even when I don't wear make-up.
2. Artifact Uprising: Inspired by the disappearing beauty of the tangible. There is something so wonderful about opening the box and seeing all your work in print.
3. Girls Day Out Leather Camera Bag by SHUTTER|bag: This is the perfect bag to hold your gear, phone, lipstick and more.
1. Aden and Anais Swaddle Blankets: These (or any similar lightweight muslin blanket) are so versatile and useful when you have a baby at home. We use them for swaddling, general blanketing, as spit/drool rags, as something for baby to chew on, as a quick solution when baby needs to lay on the floor, as a makeshift nursing cover, to cover baby in a front carrier if the weather is either cool or too sunny and more. They're extremely packable and I love to have one or two on hand wherever baby goes.
2. Duolingo: I absolutely love this free app. We recently moved to Sicily and I needed a convenient way to learn Italian. This app is fun to use and I feel like the variety of methods it utilizes to teach the language is helping me to pick up Italian faster than I might otherwise.
3. Day One App: So simple to use and pretty to look at. I'd been falling miserably behind on daily journaling of the happenings in our family. Now that I have this app, I just spend a minute or two when I have free time jotting down the memorable moments of the day. It's super simple to integrate images into the journal, as well.
4. Sigma F80 – Flat Kabuki: The best brush I've had for blending in foundation. Dense, soft bristles produce a clean, natural looking makeup finish.
1. Smash book: I love, love, LOVE these little books! I journal for my girls and these books are such a fun addition. I'll journal my thoughts, doodle, and jot down image notes. Once I order my images for the month, I'll go back into the book and insert my image with fun tape; covering up my penciled-in notes on which photo goes where.
2. Lexar card reader: I needed a multi-card reader and this one is perfect. Simple, clean and closes up when you're not using it.
3. GoPro Hero 3: I love this fun little video camera! It's so small and simple. The lens is a super wide and with a touch of a button you're recording video or time lapse photos. To the point and fantastic!
4. Pottery Barn Cozy Cable Knit Throw: Oh my goodness this blanket is cozy! We purchased one and everyone in the family fought over it. We splurged and now have a couple more. Comes in classic colors and is faux sheepskin. So you can feel cozy AND love animals, too. You can't go wrong with this throw on a cold night.
1. Yala Bamboo Clothing: I LIVE in these clothes. I literally want to wear every piece to bed because I forget I have them on. They are soft, eco-friendly, and oh so comfortable. They also travel really well and are great for throwing an overnight change in your camera bag or purse.
2. Cure Exfoliator: This stuff is crazy amazing! It is really fun to watch people's reactions when they try it for the first time. This exfoliator is really gentle too because it only removes dead skin.
3. Zojirushi Rice Cooker: I LOVE my rice cooker. I have used it everyday for years. My favorite blend is half brown rice and half wild rice. It cooks it perfectly and keeps it at the perfect serving temp for a couple of days, which makes meals a breeze.
1. Ugg Ansley Slippers are quite possibly the most comfy and cozy footwear my feet have ever had the pleasure of wearing! My feet are always cold, especially in the winter. But these suede slippers with the sheepskin insole keep my tootsies warm, while looking stylish at the same time.
2. Oprah's Master Class on the OWN network is hands-down my favorite show currently on prime-time television. This hour-long Emmy-nominated show features in-depth and intimate conversations with noteworthy guests who share personal insights and candid reflections and open up about their greatest life lessons. It is an authentic, unique and fascinating look into the lives of the modern masters of their craft.
3. L'Occitane Citrus Verbena Sorbet Body Cream is as close to heaven in a jar as you can get! It is definitely a splurge item but I love the fresh, citrus fragrance and use it immediately after I shower to moisturize my dry skin during the winter months.
4. Lucky Brand Jeans are my go-to jeans for everyday wear. When you live in jeans as much as I do, having well made, stylish and flattering options are a must, and I unapologetically admit to owning several different styles!
1. Too Faced Beauty Balm: I love this stuff! It's lightweight and sheer, but with enough coverage that I can use it instead of a foundation. Gives a beautiful, healthy glow that feels and looks natural all day long.
2. Tieks: These are the most comfortable ballet flats around! They honestly feel like you're walking on air, and they are perfect for travel as they fold up in half and can be stored just about anywhere. Dress them up or down and wear them for hours without aching feet!
3. Bare Escentuals Jack of All Trades Lip Balm: Love this tinted balm that adds just the right amount of both color and moisturizer. Perfect to toss in your purse and reply throughout the day!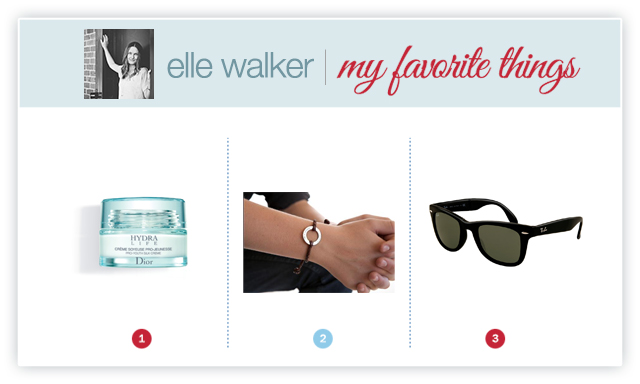 1. Dior Hydra-Life Silk Creme: The best day/night moisturizer ever.
2. Koolaman Designs hand stamped jewellery. I saw this bracelet at a show I attended recently and it is at the very tippy top of my Christmas wish list. Their products are such great quality, and just beautiful!
3. Rayban folding wayfarers: Seriously, these are unbreakable. They fold down into this tiny little case for popping in your handbag, and when little hands grab and pull they fold up instead of snapping! The joins are almost invisible, and the lenses are not slanted like some other wayfarer models.
1. Seashell waterproof iPhone case: I went back and forth researching cases before I bought this, but honestly the cuteness of it sold me just as much as the security. So glad I went for it, it comes in different colours too.
2. Krups egg cooker: Seriously, this thing is a little piece of magic if you love eggs. We use them for poached eggs and soft boiled, brilliant with marmite soldiers.
3. Personalised hammered silver word ring: My sister and I have these rings with the names of our children engraved on them. They are the most comfortable, simple and pretty rings that I own and I wear them every day.
4. Fossil Sydney Satchel: It's part of their vintage collection, it's the perfect size and the zippers pull down to the bottom on either side. I love how classic it looks. I have it in camel but I think I'm going to get the teal one also.
1. Artisana Cacao Bliss: One of my favorite snacks—can be spread on sweet crackers, pretzels, shortbread, vanilla wafers, or consumed straight from the jar! A healthy option for chocolate and coconut lovers.
2. Grandma El's Diaper Rash Ointment: This cloth diaper-friendly salve works remarkably well on sensitive baby bottoms, and has a pleasant smell.
3. Zum Face Rosemary-Mint Walnut Sugar Facial Scrub: I've been using this for years—Indigo Wild makes fabulous bath & body products that smell awesome and contain natural ingredients. Their Kansas City factory is a fun place to visit, too!
4. Mamiya c330 Twin Lens Reflex Camera: I might love this camera more than my Mark III. Shhhh…
1. Premier Jour perfume by Nina Ricci: This has been my go-to winter perfume for over 13 years. It's soft, elegant and delicate. I've tried new perfumes for winter, but always come back to this one.
2. Dior Airflash Spray Foundation: I have always had a terrible time finding a foundation that both matched my skin and didn't turn me into an oily mess, but this one is amazing! It's pricey (so I don't use it every day), but it's a miracle foundation for me, so it's worth the investment.
3. Nikon 70-200 2.8: I can't sing the praises of this lens enough! I use it for all outdoor client sessions and most personal photos taken outdoors (I even use it indoors sometimes). The compression is incredible, the constant aperture is nice and wide and it has bokeh for days. Worth every penny.
4. Cashmere Throw from Restoration Hardware: I originally bought this in gray to use for newborn sessions. It's SO incredibly soft, but I fell so in love that I decided to save it for myself instead. I don't even share it with the rest of the family. It's stashed away in a special nook in my bedroom for my use only.
1. EO Peppermint Organic Hand Sanitizing Spray: I just love the fresh and clean scent of this hand sanitizer. It dries almost instantly and it feels so much nicer on your skin than the gel sanitizer. I keep one in every bag.
2. GapFit gFast leggings: I love these leggings for everyday wear. They are snug, won't stretch out or fade over time. I love wearing them with a slouchy sweater.
3. China Rain Perfume: This is from a little local store called Body Time but lo and behold, they sell it on Amazon too. The scent is clean and fresh. You can mix your own scents and I'm also a big fan of Green Tea Grapefruit.
1. I just bought myself some fancy Bella Notte madera sheets for my birthday – and they are unbelievable. I have never felt anything like them, it makes going to bed heavenly.
2. I LOVE moleskine notebooks. I use them for work (day job), notes-to-self, notes about clients, you name it. And now that they have different colors, I can color code based on use (<loser). Over the last few years I've accumulated quite a stack of these bad boys.
3. Okay, so the last time I moved my dad packed my dishes. I told him he wasn't using enough packing paper but he said they'd be fine. Between when the movers moved me out of my old house and into my new house, all my dishes were broken. Dad felt bad and went to Williams Sonoma to get me new everything. These dishes are indestructible. And I break just about everything – so that says a lot.
4. I'm obsessed with these Bed Stu boots. I have them in dark brown and a camel color. Most comfortable pair of boots I've ever worn (and I have a few Fryes – and these are way more comfortable than those).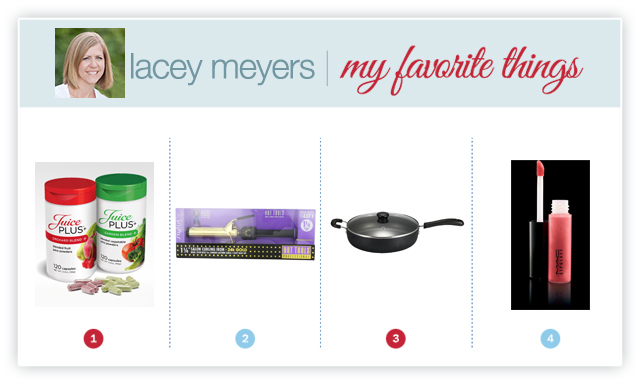 1. Juice Plus: Our entire family has taken this regularly for months now, and I can tell such a difference in our health! We get sick less and when we do, the illness lasts considerably less time!
2. Hot Tools Curling Iron: I've never been able to get my hair to hold curl, but this curling iron is the ticket! If you have short-ish hair, go for a small barrel width.
3. T-Fal Non-Stick 5-Quart Frying Pan: This is an inexpensive frying pan, so I was skeptical of how well it would work. I LOVE it. It is large, so perfect for whipping up "one-pot" meals for my growing boys. It cleans up easily and is totally non-stick.
4. MAC Lip Glass in Viva Glam V: I don't wear much for make-up, but this is a must for me. It is fairly neutral, stays on for a long time, and gives my lips just enough color and shine to dress-up my face!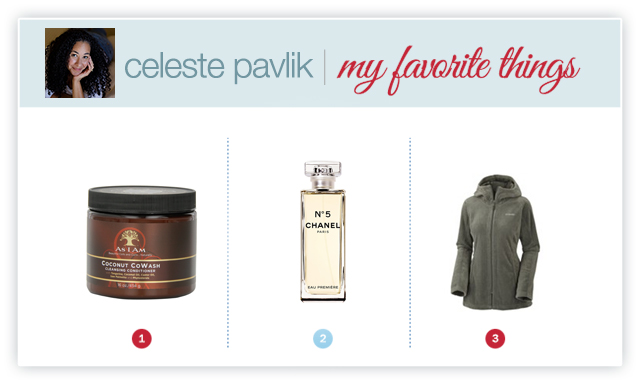 1. I have tried many many hair products for my thick, curly, hair, from inexpensive to very expensive, and I admit I am a bit fickle with my hair products. When I do find a product, or in most cases a bunch of products that I like, I'll stick with them at least until I think my hair needs a change! There was a thread on the forums all about the Curly Girl Method and the Deva cut which recently had me trying out some new products. I think I've finally found my curly hair heaven. All of these products smell delish, have a nice texture and weight to them, and keep my locks looking soft, moisturized and define my ringlets very well. First I start with this As I Am Coconut Co-Wash then I use As I Am Leave – In Conditioner and finish by mixing this Curls Curl Creme Brule with a light oil called Shea Moisture Organic Coconut & Hibiscus Curling Soufflé! Lastly, the best $5 I think I have spent in a very long time was on this Brush Strokes Detangler Brush. Oh my goodness, I no longer dread brushing my hair. I wish I had found this years ago because my hair is so thick and tangled in the morning that it's difficult to get a brush through it even after washing it. So after co-washing, I will brush it in the shower and it's so easy!
2. Chanel No. 5: This has been my favorite fragrance since I was 19. Though I may wear others from time to time, this one I always go back to, specifically the Eau Premiere. It's a bit softer and lighter than the Parfum. It lingers softly throughout the day with warmth and softness and whisper of woodsy in a feminine way. I feel so happy when I wear it.
3. Columbia Fleece Hoodie: I am a girlie girl and I never would have thought that something made of fleece could be one of my favorite things, but…. this one is. This fleece hoodie has a longer cut, an hourglass shape tapering in at the waist, and flared sleeves. It's very flattering and cute! I love it. On top of that it's really soft and just the right amount of warmth in Houston's mild winters – it kinda feels like you're wearing your favorite blanket!
1. Rainbow Flirty Braidy Flipflops: Amazing for every day mom duties! They are comfortable but so very cute and match with just about everything. I love these flip-flops.
2. The Vintage Pearl Birth Stone Rings: I have one of these for each kiddo and I switch them out. You can layer them or just wear one. They are made to order from scratch.
3.Beautiful Curls Curl Defining Gel: This product is safe, fair trade and makes my curly hair soft and flowy. I like that I can use it on my daughter, too.
1. OPI nail polish in Italian Love Affair pink: Simple, pure, and goes with everything.
2. A bike from Public Bikes in turquoise: All I need is a cute basket on the front with a bunch of flowers or a baguette.
3. Tiffany square sunglasses in black and Tiffany blue: Classic but the color adds a splash of fun.
4. Any dress from Ruche, my favorite clothing shop. I especially love the vintage inspired styles.
1. Fiberwig Mascara: I have pretty decent eye lashes but I love that this gives them an extra kick and doesn't smudge BUT washes off easily with water. Yay!
2. Crumpler Mild Enthusiast: This is my favorite all-purpose camera bag. I can fit a surprising amount of gear in it and the way it lays across my back makes the weight really manageable and comfortable for a long day out and about.
3. Born Biker Boots: These are what I wear to pound the streets. Really comfortable, really fun.
4. Winter Coat Splurge, Mackage: If you can get past the price tag, their wool coats are beautifully made.
Now that we've shared what we love, we'd love to hear a few of your favorite items in the comments below!