It's time for another installment of one of our favorite blog series, a peek inside.  Today, we have new CMmentor to feature, Stacey Vukelj.  Stacey is one of CM's newest mentors and an incredible street photographer out of New York City.  We are thrilled to get a glimpse into her life today!
a peek inside | stacey vukelj
It is a little embarrassing to say this out loud, but I love options. True for clothes, true for bags, true for books, true for take-out…and true for lenses. (To be clear, not true for husbands.) So with that confession, here is a look at my gear and my workspace.
I shoot with a Canon 5D Mark III. I love this camera. Mine is ungripped, but I do use a green Ciesta Leather Hand Strap – possibly the best birthday present ever, it has saved my wrist from permanent damage (not pictured).
1. Canon 16-35mm 2.8L – This wide zoom is fun and surprisingly versatile. It also can create some crazy distortion, which can either be terribly amazing or amazingly terrible, depending on what is being distorted.
2. Canon 24mm 1.4L – Probably my favorite lens. Sharp, fast, beautiful for low light as well as for getting the bigger scene in the picture, especially when I need to stick close to my speedy kid.
3. Canon 24-70mm 2.8L – A beautiful zoom and my favorite travel lens. It has gorgeous colors, focuses fast and allows me to get a lot of diversity in my shots without hauling around a bunch of gear.
4. Canon 35mm 1.4L – The 35mm does not own my heart the way the 24mm does, but I do prefer it when shooting more than one person. The bokeh is creamier and there is less distortion around the edges, so people look normal no matter where they are in the frame.
5. Canon 50mm 1.4 – My first prime lens –it has been a little neglected recently but I enjoy using it for city portrait shooting. I can get a more intimate shot without intruding on personal space.
6. Canon 85mm 1.8 – This lens is beautiful for family portraits and has lovely bokeh. At this focal length, I need to be able to distance myself from my subjects, so when using it on my son it becomes a two-adult project.
7. Canon 100mm 2.8L – A rut-breaker. I find macro photography to be intriguing and challenging and love to take this out just to mix things up a little.
8. Canon 135mm 2.0L – My "most likely to get sold" lens. I keep trying to love it, but increasingly I think it's not for me.
9. Lensbaby Sweet Optic 35 – This is a new one for me but I am having fun with it so far. I enjoy the challenge of manual focus.
10. Canon EOS-3 – I have shot a grand total of two rolls thus far, but I am excited to learn a little more about the world of film and this 35mm body is a perfect place to start since it is compatible with all of my lenses and handles very similarly to my DSLR.
11. Canon Speedlight 600EX –RT – It took a while for me catch on to how useful this would be, but the flash has turned out to be a great investment.
12. Vello Freewave wireless remote control – I'm not great about getting in the shot but I do love having this for long exposures.
13. Crumpler Haven M camera pouch (and the dirty satchel I carry it in). I can take my camera in almost any bag with this insert.
14. Shutterbag Safari – My fancy bag. Perfect for events, dinners out or any time you need gear but need to look nice. It is beautifully made.
15. Crumpler Mild Enthusiast – Purchased at the recommendation of a friend, I already love this lightweight, comfortable bag and it will be coming with me when I travel next month.
16. 27' iMac – Santa brought this for me this year as an upgrade to my small laptop. My eyes will be forever grateful.  The desk opens up into storage beneath and a pull out drawer. Inside and behind are external hard drives and a Wacom Intuos 5 tablet. What you see is the room where we spend 99% of our time. City living = great windows, no closets.
17. Photo albums, photography books and an ipod.
18. Wine. Kept close at hand.
19. Our tv. It used to belong to my grandmother. I may be older than it is, but not by much. We should start taking bets on who will live the longest. I suspect I might not win.
20. Photographs! I finally hung my own work on our walls this past winter.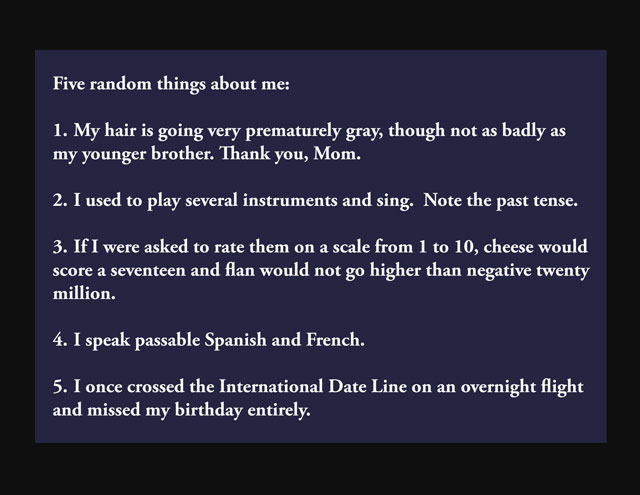 Thanks for taking a peek inside!
Stacey Vukelj, New York
CMpro
website | blog | ask a pro
New York City street photographer Stacey shares a love of travel and photography with her husband although she took photography a step further in 2011 when she began taking workshops to better her skill and ultimately take better photos of her son. Why street photography? Stacey says, "documenting moments that can't be staged or repeated and finding ways to tell a beautiful story with strangers and the city as a backdrop is something I don't think I will ever tire of." Stacey is a Canon shooter, reader, smelly cheese lover, but not a fan of the kitchen unless it involves making Spanish tortilla which she learned to do while living in Spain.