A few weeks ago, I was checking out flash modifier options for my Speedlite.  I like to keep things portable, easy to use, and uncomplicated.  I currently have a 43" Brolly Box and 43" shoot-thru umbrellas….but those aren't always good options outside, and they definitely can't be used on-camera.  Enter the Rogue FlashBender with diffusion panel.  It's small, lightweight, foldable, and easily portable.  They can be used on your flash on-camera or mounted on a lightstand.  Since they are small, it's less likely the wind would catch them and knock them over, and I admit, I like the double-duty options they provide.  Additionally, the design seems really well thought-out and well-executed.  The FlashBenders have internal flexible rods that allow you to position them pretty much any way you like, and the diffusion panel quickly and easily attaches with velcro.  You can bend the top down, sides in, and you can even roll into a snoot.  The FlashBender with diffusion panel attaches to the shoe-mount flash with an adjustable velcro strap, you don't have to stick anything to your flash.
I also decided to play around with a set of gels too (I purchased the Rogue Gels).  I've wanted to try out gels for a while, but never really knew what to purchase.  These seemed pretty easy and straightforward.
Here are some of my comparison images:
Bare flash, on a stand
Flash on a stand with FlashBender and Diffusion Panel
You can see that the light is a little bit softer.  It doesn't create giant catchlights like you'd get with a softbox, but they're bigger than the pinlights you often see with flash.
Here, I'm going for a very dramatic look, and very pleased with the way it turned out.  FlashBender with diffusion panel on the main light, and the second light with purple gel behind him, pointed at him to give the purple glow.
Again, lots of drama, but this time, some light into his back eye (and a little attitude).
This is 2 lights, both with FlashBenders and diffusion panels, at 10-2 positions.  The flash (main) on camera left had the larger FlashBender, and the second flash (fill) camera right had the smaller FlashBender.
This is with the FlashBender, no diffusion panel.  I bent the left corner down to give it some directionality.  I love how it turned out, though with a single flash, it is difficult to minimize, or reduce, the under-chin shadow.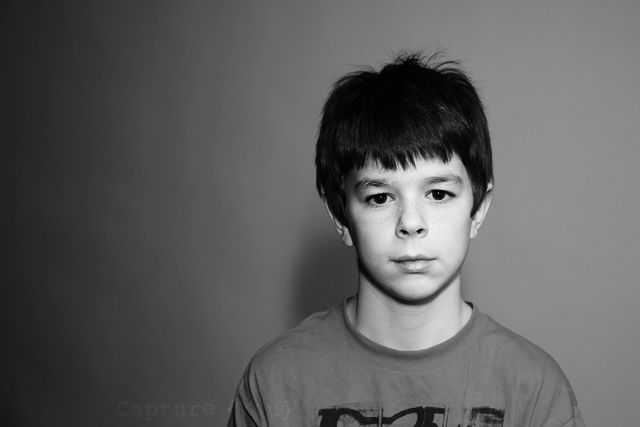 Overall, I really like the FlashBenders both with and without the diffusion panels.  I think they allow more creative options than just plain craft foam, or a domed diffuser.  They will definitely be a part of my flash accessories, especially for events and weddings.  I really liked the softness that the diffusion panel offers.
Crystal Samson, Idaho
CMpro
website | facebook | instagram | ask a pro
Crystal is a photographer specializing in Boudoir, Engagement, Weddings and Seniors in the Boise, Idaho area.
sponsored giveaway!
Would you like to modify your light like this as well?  Expo Imaging is giving away a Rogue Large Soft Box Kit to one lucky commenter!  Valued at $64.95, this is a  durable, portable soft box that attaches quickly to all standard speedlights and can easily fit into a small bag or laptop case.  The kit contains a Rogue Large FlashBender, Rogue Large Diffusion Panel, and a Silver/Black attachment that  photographers can use to create a shapeable bounce reflector, soft box or snoot.
To enter to win, simply comment below telling us what you're thankful for.  All comments by next Tuesday, December 3, 2013 at noon EST will be entered into the random drawing.  We'll update this post Tuesday afternoon with the lucky winner!
winner update!
Congratulations to Jackie who said, "Thankful for my family..they're my everything!!"!  I will email you shortly on how to claim your prize!