If you have a child and are a photographer you have likely experienced it: you plan out your shoot, you buy the clothes, you dream about the day and when it arrives disaster…your child wants nothing to do with you or your camera. The perfect shoot you envisioned falls to pieces before your eyes. It can be so disheartening and discouraging but there are things you can do to help avoid PCS (Photographer's Child Syndrome).  Here are some tips that have helped me to have better shoots with my own children.
1. Ask permission.
I never tell my kids we are going on a shoot. I ask them if they are in the mood to do it. Sometimes the answer is no and I don't push it but mostly because I ask, they consent. It can just be a matter of them wanting/needing a little space or them feeling like they need a little control over any given situation but whatever it is I want them to know it is their comfort in the process that is of utmost importance to me.
2. Build trust.
That almost seems silly since they are my children but I have learned that a promise must be kept to keep up their trust. If I tell my kids just one more shot I have to mean it and follow through or they won't trust me the next time.  There have been plenty of times when one of them says to me that they are
willing to do a photo shoot but only if I do just x number of pictures. If I agree to this I have to stick to it. Sometimes even when my child agrees to a shoot it may not go as I had hoped which leads me to number three.
3. Have a clear purpose but be flexible and listen to cues.
If I have an idea in mind but my kids just aren't into it, then I switch gears. One of the single most important things to know when shooting with your kids is what works and what won't. The light could be golden, the moment perfect but if your child has a need that has to be met then do it whether it be a drink of water, some fruit snacks or to go to the bathroom. It is only a moment of time away from the shoot and that moment is far better than walking away with nothing because your kid is
miserable and unwilling to do what you ask.
In the images below I was given permission to shoot two pictures. Despite giving me permission she was grumpy about it. I wasn't about to turn back now though because she said I could have those two shots. Being flexible meant I got some of my favorite pictures of her ever and they now hang on her wall. This is who my
6 year old is. She is funny and fierce and moody and these images embody all of that.
4. Use your own environment.
Your kids know their home and their backyard so why not use that to your advantage? They are comfortable there and are far more likely to appear as such in a photo. This is also an incredible way to build your own skills because you have to use the environment in a creative way.
In my bedroom angled so that we only get the window:
In my living room and using a piece of my own furniture:
5. Stylized shoots don't have to mean discomfort for your kids.
Nothing ruins a shoot quicker with my 6 year old than if she doesn't like an outfit she is wearing.  Stylish doesn't have to mean that the clothes are uncomfortable and sometimes the best choice is nothing. If your son is in a t-shirt with The Transformers on it then simply take it off and shoot him without a shirt. If you aren't comfortable with or don't like the shirtless look then pick clothes that will not make them feel like they are out of their comfort zone. Simple is always the best rule of thumb.
Shirtless and showcasing his favorite body part: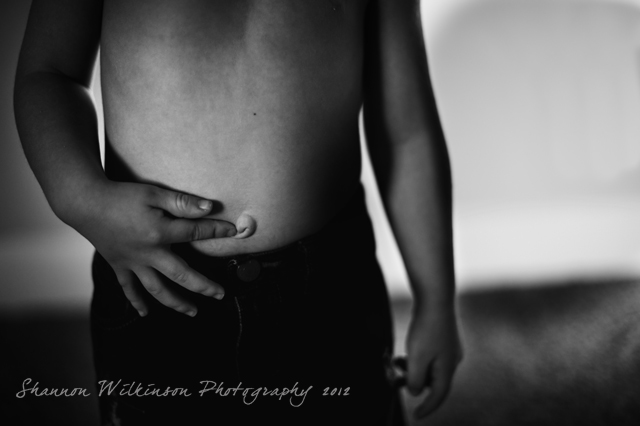 6. Don't forget to take snapshots.
Taking out your camera doesn't have to mean an elaborate shoot. Your kids will be far more comfortable with your camera if they see it all the time and in all circumstances. Shooting often will also help to improve your skills and best of all; you will have captured memories that will be cherished as your children grow older.
7. Involve your children.
When we are doing an outdoor shoot I let my kids pick locations, their own clothing, etc. The more invested they are the more likely they will feel excitement when the time comes for the shoot. It has become "their" photo shoot.
8. Keep your camera handy.
I remember Meg Bitton saying this in a post on Clickin Moms once and thinking that there was no way I could do that. My kids would have their hands on that camera in a heartbeat. I even told Meg that I simply couldn't for this reason alone. That very next day I missed a shot that I will never get back. I was fumbling to get my camera out of the closet, get the lens on it and get it set up. I have never let that happen again. My camera sits in my closet still but the lens is on and it is on the shelf where I can grab it quickly. I would have missed these two shots were it not for having it at the ready.
9. Lastly, make it fun!
Always. Taking pictures shouldn't feel like punishment for either of you. Don't walk away from your shoot sweating and dreading the next one. Laugh, have fun and most of all, enjoy yourselves. You are spending time with your kids so make it worthwhile and build a memory not just in camera but out of it too.
Thank you Shan for sharing these awesome tips with us!  What are your favorite tips for photographing your own children?  We'd love to hear from you in the comments below!
Shannon Wilkinson, Utah
CMpro
website | facebook | ask a pro
Shan Wilkinson first became interested in photography when her first daughter was born in 1990. It wasn't until her second daughter was born in 2006 after years of infertility and miscarriage that she became passionate about it. Shan got her first SLR in 2007 and never looked back. She is a hobbyist who shoots both film and digital. Her favorite subjects are her children ages 22, 6, 4 and 2. She also has a love of macro photography and shooting old, mysterious looking trees.