by Sue Bryce
Most new moms don't want to be photographed in the months after giving birth; they feel frumpy and sleep-deprived and the opposite of photogenic. When working with clients, I remind them why it's important to have photographs with your baby, especially in those first months. So many moms end up with photo albums of just their child, and it's time for these new mothers to step out of the background, get in focus, and see how beautiful they are.
I've been making feel women feel gorgeous for over 20 years, and below are some of the tips I'll be teaching in Bumps to Babies: Photographing Motherhood, a free, live workshop on creativeLIVE.
Gain Her Trust
The first thing I do is I need the woman to understand and trust that I can make her look good, and the easiest way for her to trust me is to see before/after images from previous photo shoots. All women go for it straight away because they identify aspirationally with the glamorous after shot.
Show Her Examples
In the day or week before the shoot, I send the client sketches of possible poses. I show them lots of different styles based on how they want to present themselves — everything from fine art to silhouette.
Pamper Her With Hair & Makeup
One of the best ways to make a new mom feel comfortable and beautiful is to pamper her by booking a hair and makeup artist for the shoot. She has a new baby, so she wants to be pampered and have someone else do things for them, instead of tending to everyone else's needs. Hair and makeup is a simple luxury, but one that goes a long way.
Keep Her Covered
One of the first things I ask new moms is how much skin they want to show. I never, ever get them to shoot with no underwear on (I can always just remove it in Photoshop), and I always ask if they want to show their breasts or not. It's about making them feeling comfortable about taking their clothes off. I always cover my clients with a blanket or robe when I'm not shooting.
Start With Classic Styling
I always start the client in something simple like a white top or tank. I usually start with glamour-style contemporary Calvin Klein-esque white-on-white. It's where I start everybody, to ease my clients into posing and have something classic and tasteful that the mother can show everyone.
Sue Bryce is an award-winning glamour photographer who has been photographing women for over 24 years. Sue believes beauty is not on the outside, it's something that shines out when you love who you are.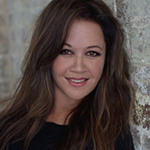 Sue Bryce, Australia
CMpro
website | blog | facebook | twitter
Sue has been a Photographer for 23 years and has spent her career shooting Glamour.  When all others turned their backs on the old style genre, Sue evolved it, modernized it and then built a beautiful business out of it. From humble beginnings, building an at home studio in her country garage in 2003, to creating a high volume boutique Studio and Make up room Sue has redefined Glamour Photography and Contemporary Portraiture.